Products
All of our software systems are delivered via instant download. After you purchase one of the systems, you are immediately sent a serial number and a link to download the software.
This new technology only requires a computer, speakers and headphones. Special algorithms in the software make this possible. No electrodes, script programming or part replacements necessary, as there are with conventional Rife Machines and other devices.
The systems are EASY to use. Most people are up and running within minutes, even with very little computer experience. No medical knowledge or experience is necessary.
We also have a video on the Support Page here that will walk you through download and installation it in 5 easy steps, in case you are new to computers.
Life Frequencies Essentials - A Powerful, Multipurpose Alternative Health System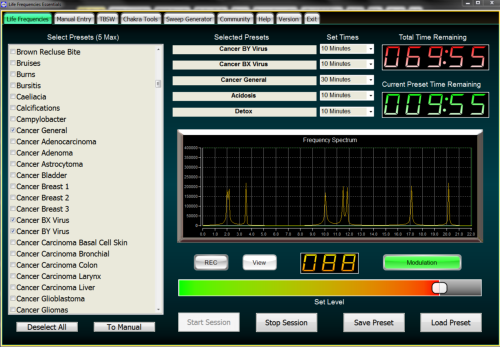 Life Frequencies Essentials is based on years of proven scientific research and technology.
Life Frequencies Essentials Includes :
A Powerful Rife Machine with thousands of preset frequencies (700+ fast presets)
Manual Rife System with Structuring for making homeopathic remedies.
Full TBSW System for pain relief, stress relief, weight loss and more...
Chakra Tools for Chakra balancing and alignment
Sweep Generator for finding your own frequencies
Save your presets to ogg audio format for running on Android and iOS tablets and smartphones
Built-in secure Community Chat System
Complete Help System with Videos
Life Frequencies Essentials has features that no other Rife Machine or alternative health system can compare to. Powerful enough for major health problems, yet it's easy enough for anyone to use in the comfort of home.
---
Rife Pro X2 - Use Your Computer as a Powerful Rife Machine With Advanced Features
Rife Pro X2 is powerful, computer based Rife Machine with advanced features not found in ANY other Rife Machines.
Aside from being a powerful Rife Machine, you can structure water and oils for making homeopathic remedies and it has a TBSW system in it for pain relief, insomnia, weight loss, stress relief and more...
Rife Pro X2 Features :
Run up to 20 Frequencies at the same time in Multi-Frequency mode, saving you time or you can also use Single Frequency Mode.
Over 700 Fast Rife Presets - 2 mouse Clicks and you're up and running.
Built-In Hulda Clark Frequency Converter gives you thousands of proven frequencies to your already powerful Rife System.
A TBSW System for pain relief, insomnia and more. 15 TBSW Presets!
Export Rife Frequencies to wave audio format so you can make CDs for yourself, your clients or patients.
Structure water and oils with Rife Frequencies so you can make homeopathic remedies for pain and more.
Separate timers for Single or Multi-Frequency mode makes it easy to "set it and forget it"
New Frequency Display
Frequency Range of 0.0001 Hz to over 100 MHz (Megahertz) with the built in frequency converter allows you to use frequencies that aren't available in any other Rife Machine.
Special Modulation algorithm for enhancing the effectiveness of speakers for Rife work.
Three selectable waveforms - gives you more flexibility. Uses your computer's ANALOG outputs.
Manual Mode for entering your own frequencies or ones that you find.
Save and Load an unlimited number of your own presets for quick recall.
---
ZOGG
ZOGG is a FREE ogg audio file player for Windows computers. Ogg files are the native format for Android, but Windows has no built-in ability to play ogg files.
Click here to download ZOGG - FREE
---
We're often asked the differences between Life Frequencies Essentials and Rife Pro X2. In a nutshell...
Life Frequencies Essentials has more features for alternative health than Rife Pro X2. Besides powerful Rife Machine capabilities, Life Frequencies Essentials has a full TBSW system (for pain relief, stress relief, insomnia and more), Chakra balancing tools, a Sweep Generator for finding frequencies and more...

Rife Pro X2 is more focused on being a powerful Rife Machine. Besides being that, it has many features that no other rife Machines have, like a preset TBSW system for pain relief, the ability to structure water and oils for remedies and more.
Software System Requirements
A PC Laptop or Tablet running a full version of Windows 7, 8 or 10
4 Gig of RAM (recommended)
Speakers and headphones