Products
Products are available via Instant Download. A download link is emailed to you immediately after purchase. Once you buy a licensed product, you can also download it from the Customer Center any time.
All systems work on PCs running Windows XP or later. Will also run on Macs that have Parallels and Windows installed.
---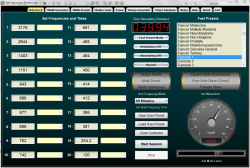 Life Frequencies Professional
The World's Premier Alternative Healing System with over 700 Fast Rife Presets and a Clark Frequency Converter that adds thousands more presets for any imaginable health problem. You can use frequencies up to 100 Million Hz using the built-in converter.
Structure water an oils for making homeopathic remedies. Get pain relief with the powerful Dual TBSW system. Has features not found anywhere else, that can tackle the worst of health problems.
Click here for details and to buy Life Frequencies Professional
---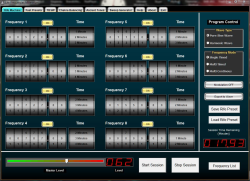 Life Frequencies Millennium
Life Frequencies Millennium is a highly effective entry level Life Frequencies System with Rife Machine Plus built into it and a powerful TBSW system for pain relief, insomnia, rejuvenation and more. As with other Life Frequencies Systems, you can balance Chakras, use Ancient Healing Tones, use the Sweep Generator for finding you own frequencies.
Life Frequencies Millennium is affordable and makes a perfect, powerful home alternative health clinic.
Click here for details and to buy Life Frequencies Millennium
---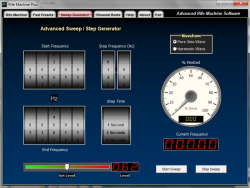 Rife Machine Plus
Computer-Based Rife Machine with features not found in other Rife Machines. Has a sweep generator and binaural beats system for pain relief and more.
You can get Rife Machine Plus for less than $100 and it has been known to help get rid of serious health issues in a matter of hours!
At such a low cost - there's nothing even remotely close.
Click here for details and to buy Rife Machine Plus
---
Product Comparison Chart
Addons and Presets
If you own Life Frequencies Professional, we've made a custom preset for Ebola, Marburg and Filoviruses. Since there are no limits with frequencies using Life Frequencies Pro, you can make a preset yourself using the built-in Clark Converter. However, we've done all of the work for you and made an installer for the preset as well.
The frequencies in the preset are dual conversion using both Euler's Constant and Octave algorithms with 4 added buffer frequencies.
If you choose to get the preset, just run the installer and the preset for Ebola will be available when you select the LOAD PRESET button in Rife Pro-X.
Click the Get It Now button below to get the Ebola Preset for Life Frequencies Professional.
Only $9.97. Instant Download.
Dont have Live Frequencies Professional?
Get a stand-alone program for Filoviruses here.
---