Products
NEW! Life Frequencies Essentials
Discover the latest Generation of Life Frequencies Technology!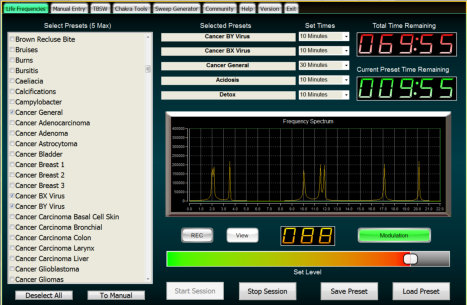 Life Frequencies Essentials is the first 4th generation release. It combines many of the things that people have asked for in the previous generations, like Life Frequencies Professional. It's easy to use and made for everyone!
A modern, powerful replacement for older Rife Machines
Over 700 Fast Presets - no scripts or messy programming required
Chaining complete presets - up to 5 at once (100 frequencies)
Recording your presets for up to an hour (OGG format is the native audio format for Android smart phones and tablets) Can also be played on iPhones and iPads with free ogg player apps. Recording works on all sections of the program. Someone sick in another state? Email them an ogg file for their problem.
New more powerful Modulation algorithm for using speakers and headphones
New Structuring Algorithm for homeopathic remedies.
Spectrum view - see the frequencies
Streamlined TBSW System
New Manual Entry system for entering your own frequencies
New RF to Resonant Audio Converter (Dual)
Revised Chakra Tools with Background sounds incorporated and two added chakras.
Built in Community Chat - stay connected with other Life Frequencies users!
And More...
Click HERE for more information about Life Frequencies Essentials
---
New! Rife Pro X2 - Use Your Computer as a Powerful Rife Machine
Rife Pro X2 is the latest AFFORDABLE Rife Machine Software from bztronics. It's features and ease of use are incredible! Aside from being a powerful Rife Machine, you can structure water and oils for making homeopathic remedies.
Click here to see the Rife Pro X2 page and learn more...